What should I be using: CilaJet Ceramic or Ceramic Pros?
Think of the last time you were at the airport, getting ready to board. You probably didn't think about it then, but the paint wasn't likely faded or peeling despite high-friction speeds, severe weather conditions, and rapid temperature changes. That's because airplane manufacturers spend over $1 Million to paint and seal each airplane — and they only do it once. If you're Boeing or Airbus, you use a product called Cialjet to accomplish this.
What is ceramic paint protection?
A ceramic coating, or nano-ceramic coating, is a liquid polymer that is applied by hand to the exterior of a vehicle. A true ceramic coating contains both silica and titanium dioxides, and chemically bonds with the vehicle's factory paint to create a sealed layer of protection. There are a lot of companies that advertise ceramic coatings for the cost of a Starbucks coffee, and the bad news is that they don't have either of those ingredients; just an inexpensive box of hopes and dreams. 
Ceramic coatings are a premium wax alternative, creating a permanent bond that does not wash away or require reapplication every few months. They protect from UV damage, oxidation, and chemical stains or etching, while making the car easy to clean and enhancing the gloss. A ceramic coating doesn't take away the need to wash your car properly, though. Swirl marks and scratches, rock chips, and hard water spots can still get to the paint of your car, so take the time to get to know your car and take care of it. Having a car should be a source of pride!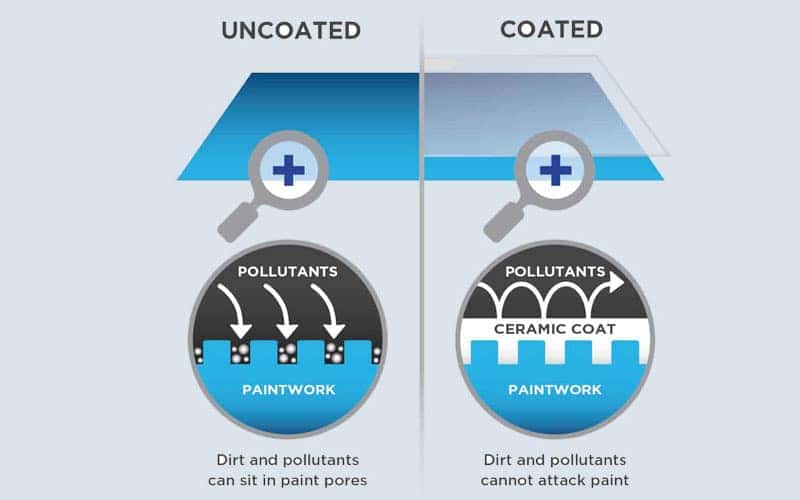 CilaJet Ceramic
There are a lot of options for ceramic coatings, but one that is especially impressive is CilaJet. Not only is it a true ceramic product (with both silica and titanium dioxides), but it's the only aviation-grade ceramic certified by both Boeing and Airbus. It meets 9H Hardness requirements and is also hydrophobic like many of the more expensive ceramics on the market. 
The best part is the cost; CilaJet only costs $1395 for installation compared to $3000+ by competing products. Paint correction is required before installation, so swirl marks and damage has to be removed prior to installation, but we specialize in auto detailing to make sure that the surface is prepped perfectly.
What does CilaJet cover? 
When it comes to trade evaluations, the difference between a fair and good or good and great condition is usually cosmetic. Mechanical condition provides the base market value; anything above and beyond comes down to visual appeal. Ceramic coatings provide ease of mind for this with added protection and ease of cleaning.
Cilajet comes with 10 year coverage for new cars and 5 year coverage for used cars. After that period you can get the product re-applied once at no cost. The ceramic protects against environmental damage: bird droppings, road salt, magnesium chloride, oxidation, eggs, sap, and brake dust. All exterior paint, wheels, headlights, and taillights are covered, as well as interior seats, floormats, and the center console.
How do ceramic coatings hold up against paint protective films?
Ceramic coatings provide paint protection from unavoidable natural elements, paint protection films are a hidden form of defense high-exposure areas of your car.  Door handles where jewelry scratches the paint, door edges for close parking lot encounters, tailgate bumpers for loading and unloading, and the vehicle hood, are common areas of installation. Quality products are self healing and don't change colors or peel. 

Paint Care
Remember, a ceramic coating or paint protective film doesn't take away the need to wash your car properly! We recommend washing your car every two weeks to avoid dirt and contaminate buildup. Wash from the top down, and use two buckets, one for clean soap and one for rinsing your microfiber. 
Car wash services: 
Hand Wash

Touchless Wash

*No automatic brush washes!
Washing it yourself:
Use quality, mild, car wash soap with no wax

No wax needed with ceramic coatings

350 gsm microfiber wash and dry

Wash in shade to avoid water spots 
Pro Tip: Use compressed air to blow out water sitting in the side mirrors or other hard to reach areas so you get a complete dry.
If you would like to discuss ceramic coatings at great lengths and see if it's the right thing for your car or SUV, then schedule service and discuss it with one of our professional ceramic technicians.