Drive To End Hunger
BMW OF ESCONDIDO DRIVE TO END HUNGER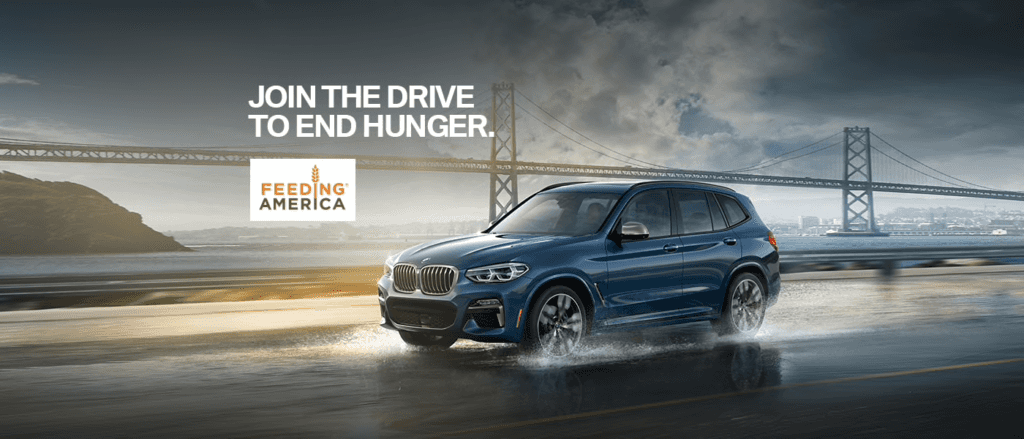 Receive a $1,000 New Vehicle Credit* and support Feeding America® with your test drive.
November 13th through November 20th is your opportunity to support Feeding America®, the nation's largest domestic hunger-relief organization, while having some fun of your own. For each test drive, your local BMW center will donate $20 to Feeding America, generating at least 200 meals** secured by Feeding America® on behalf of member food banks. In addition, bring a canned good or non-perishable food item and your BMW center will make a donation to a local food bank where 700 pounds of food can provide 583 meals. Experience the thrill of the Ultimate Driving Machine® while making a difference in your community.
Support a worthy cause. Have some fun behind the wheel of a new BMW. Plus receive a special New Vehicle Credit. That's three great reasons to experience the innovative line-up of BMW cars and Sports Activity Vehicles® today.
Feel free to message us using the little blue button at the bottom of the screen to schedule your test drive, and cut down on some email in your inbox  😊
---
*$1,000 offer valid on eligible vehicles test-driven November 12, 2019 through November 18, 2019 and delivered November 12, 2019 through January 31, 2020. Eligible models include most new in-stock MY2019 and MY2020 BMWs. The MY19 & MY20 X7 and 8 Series (all variants), MY19 & MY20 M2 Competition, M5 (all variants), MINI vehicles and BMW Pre-Owned/CPO vehicles do not qualify. This offer cannot be used for vehicles previously ordered or delivered before November 12, 2019 and is only valid on delivery of in-stock vehicles. Offer valid to BMW's Drive To End Hunger Test Drive Event participants and their family members residing within the same household. Offer valid on final negotiated lease or purchase price and may be combined with other applicable BMW offers that are available at the time of purchase. It may not be used toward tax, title, destination and delivery charges. Only one redemption code per vehicle may be used. Only valid at participating dealers. Please see your participating BMW Center for complete program details