2019 BMW X5 Interior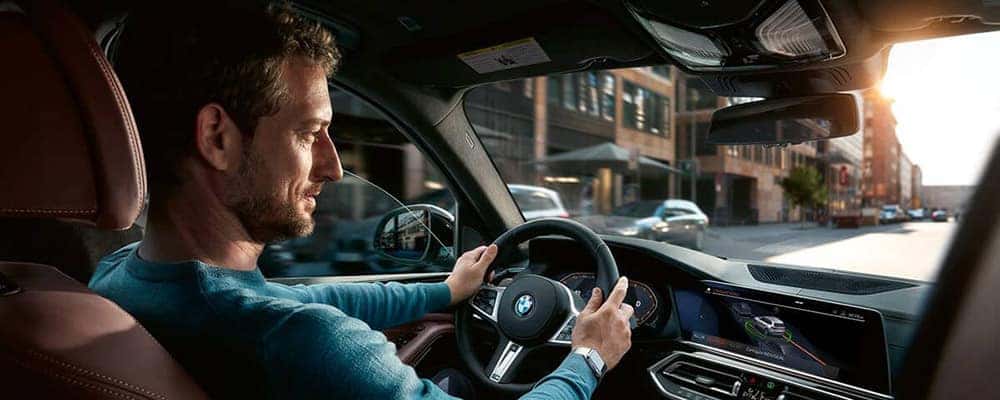 The 2019 BMW X5 not only offers a luxurious exterior design but an even more lavish cabin. The high-end features include the larger panoramic moonroof for a clear view of the sky to the advanced Harman/Kardon Surround Sound System to make every ride more fun. The BMW X5 interior will keep you connected and comfortable during your daily San Marcos commutes.
Interior Style
The BMW brand is known for its classic style, and the BMW X5 interior stays true to the classic design while featuring different luxury features you won't find in other vehicles. With the comfortable BMW leather upholstery and heated steering wheel, this cabin is sure to spoil you in multiple ways. Here are a few more of the convenient features the BMW X5 interior offers:
Heated armrests and rear seats
Heated and cooled cup holders
Harman/Kardon Surround Sound System
BMW X5 3rd Row Seat
BMW Extended Ambient Lighting
And more!
Deep dive into all the latest interior features of the X5 when you visit in person! When you visit, you'll learn about the seating options within the X5. The seating capacity of the BMW X5 is five passengers, however, you can contact us to look at the BMW X5 third row seat model!
Advanced Technology
While you're cruising through Poway, you'll be able to enjoy plenty of high-quality technology features within the X5. You'll have access to the Live Cockpit Professional on the 12. 3-inch Center Display, iDrive 7.0 accessibility, Digital Instrument Cluster, optional Head-Up Display, and many more advanced safety technology features:
Active Driving Assistant with Blind Spot Detection, Frontal Collision Warning with City Collision Mitigation, Lane Departure Warning, Speed Limit Info, and Cross Traffic Alert
Optional Active Driving Assistant Pro with Active Cruise Control, Active Lane Keeping Assistant with Side Collision Avoidance, Steering and Traffic Jam Assistant, and Automatic Lane Change
Even though the base trim of the X5 can entertain and protect, there is a multitude of add-ons and technology upgrades that you can implement into your new BMW. Explore our wide selection of new models at BMW of Escondido.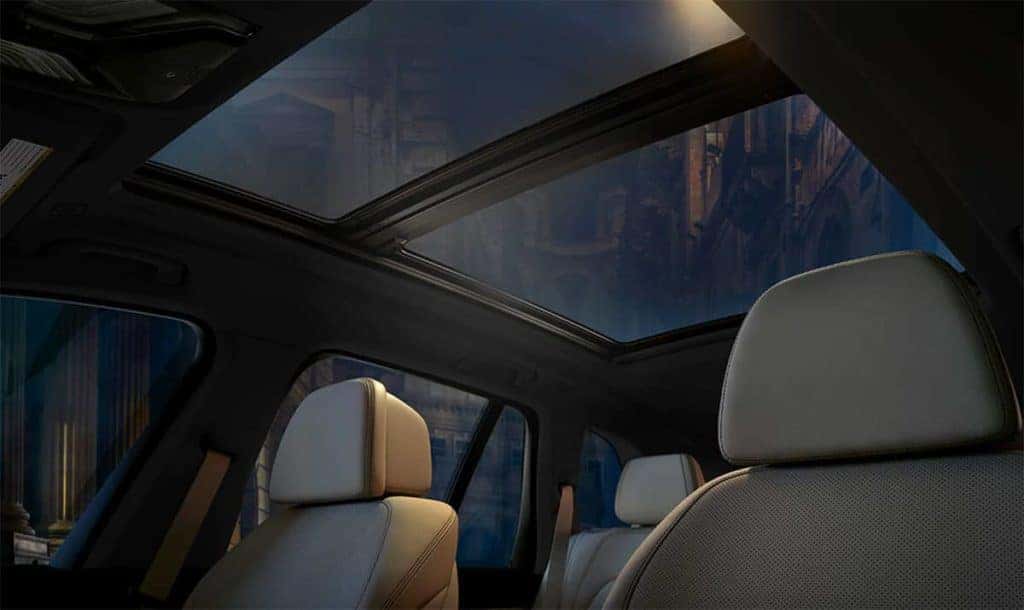 BMW X5 Seating Capacity
The standard seating arrangement for the 2019 X5 seats five passengers with 72.3 cubic feet of cargo space once the rear seats are folded completely down. For those with larger families, or those who need more seats for multiple guests, the BMW X5 third row seat is an ideal option for those seeking more room.
Explore the X5 Interior at BMW of Escondido
Are you ready to make the BMW X5 your new vehicle? If so, come visit us at BMW of Escondido to not only sit and look through the BMW X5 interior but get a chance to test drive it in Escondido. Before stopping in to visit, feel free to apply for financing online then contact us to schedule an appointment with our finance center to begin the car-buying process today.
More From BMW of Escondido
When the rumor mills started talking about a 2 Series Gran Coupe model a couple years ago, we were perplexed on what that might look like for production. Given the elegance and utility of the 4 Series Gran Coupe model, we were hopeful — and we're stoked on the result! It promises to be an engaging hot hatch all the way around.  The idea of a Gran Coupe is intriguing because, you get the looks of a coupe model combined with the use of four doors. Even if no one sits in the back seat, how convenient is it to put your gym bag or backpack in the back seat instead of tossing it in the trunk or reaching behind you to grab it out when you arrive?  Now for the fun lesson: The first few F44 Gran Coupe (the code name) models will arrive as all-wheel drive models (The 228xi and 235xi Gran Coupe). These are the Handler Erst Ausstattung (HEA), German shorthand for "showroom and test drive cars so the public can finally see the car without traveling to an auto show."  The 2GC comes in two engine platforms, the 228i and the 235i, highlighted here:  Category 228xi Gran Coupe 235xi Gran Coupe Engine 2.0-liter four-cylinder (B46)  2.0-liter four-cylinder (B48) Horsepower 228 301 Torque 258 lb-ft 332 lb-ft 0-60 6.0 seconds 4.6 seconds Base MSRP $37500 $45500 Not only is the 2 Series Gran Coupe a Mercedes A-Class killer, it remains committed to the overall look and styling of BMW, while featuring an upgraded set of standard equipment in a nimble and commuter-ready package.  Standard features:  Navigation Apple CarPlay Led Headlights Forward Collision Warning Lane Departure Warning Blind Spot Detection Power Folding Mirrors Auto-Dimming and Rear View Mirror Park Distance Control (PDC) 40:20:40 Split Seats for passthrough access Illuminated Trim Sport Seats Convenience Package Panoramic Roof Comfort Access Sirius XM Premium Package Convenience Package items + 10.25 Digital Dashboard  10.25 Touchscreen Display Head Up Display Live Cockpit Pro Lumbar Support Parking Assistance Package Parking Assistant Active Park Distance Control  Backup Assist The optional M Sport Package changes the look of the car, but not the performance. Other options include heated seats and steering wheel, Harman Kardon sound, wireless charging, active cruise control. We encourage you to Build Your Own and share your build codes with us, we'll be posting some of our favorites on Instagram. 

What is ceramic paint protection? A ceramic coating, or nano-ceramic coating, is a liquid polymer that is applied by hand to the exterior of a vehicle. A true ceramic coating contains both silica and titanium dioxides, and chemically bonds with the vehicle's factory paint to create a sealed layer of protection. There are a lot of companies that advertise ceramic coatings for the cost of a Starbucks coffee, and the bad news is that they don't have either of those ingredients; just an inexpensive box of hopes and dreams.  Ceramic coatings are a premium wax alternative, creating a permanent bond that does not wash away or require reapplication every few months. They protect from UV damage, oxidation, and chemical stains or etching, while making the car easy to clean and enhancing the gloss. A ceramic coating doesn't take away the need to wash your car properly, though. Swirl marks and scratches, rock chips, and hard water spots can still get to the paint of your car, so take the time to get to know your car and take care of it. Having a car should be a source of pride! CilaJet Ceramic There are a lot of options for ceramic coatings, but one that is especially impressive is CilaJet. Not only is it a true ceramic product (with both silica and titanium dioxides), but it's the only aviation-grade ceramic certified by both Boeing and Airbus. It meets 9H Hardness requirements and is also hydrophobic like many of the more expensive ceramics on the market.  The best part is the cost; CilaJet only costs $1395 for installation compared to $3000+ by competing products. Paint correction is required before installation, so swirl marks and damage has to be removed prior to installation, but we specialize in auto detailing to make sure that the surface is prepped perfectly. How do ceramic coatings hold up against paint protective films? Ceramic coatings provide paint protection from unavoidable natural elements, paint protection films are a hidden form of defense high-exposure areas of your car.  Door handles where jewelry scratches the paint, door edges for close parking lot encounters, tailgate bumpers for loading and unloading, and the vehicle hood, are common areas of installation. Quality products are self healing and don't change colors or peel.  Paint Care Remember, a ceramic coating or paint protective film doesn't take away the need to wash your car properly! We recommend washing your car every two weeks to avoid dirt and contaminate buildup. Wash from the top down, and use two buckets, one for clean soap and one for rinsing your microfiber.  Car wash services:  Hand Wash Touchless Wash *No automatic brush washes! Washing it yourself: Use quality, mild, car wash soap with no wax No wax needed with ceramic coatings 350 gsm microfiber wash and dry Wash in shade to avoid water spots  Pro Tip: Use compressed air to blow out water sitting in the side mirrors or other hard to reach areas so you get a complete dry. If you would like to discuss ceramic coatings at great lengths and see if it's the right thing for your car or SUV, then schedule service and discuss it with one of our professional ceramic technicians.

iDrive 7 is the latest and greatest BMW software, and it comes standard in all new available 2020 models. One of the hardest things about getting a new car is getting it set up so you feel at home again, including transferring your music and media. Because we had this question over the weekend and because BMW USA does not have this resource, we figured the best way to help our customers would be to provide a simple step-by-step guide so your car can feel like home again, and you can get on the road as soon as possible.  If you are moving from iDrive 6 to iDrive 7: The move from iDrive 6 to iDrive 7 is super easy and can be done in eight steps.   Plug your USB into your car's interface Navigate to "Media" → "Export" Export all of your songs onto a USB drive Plug the drive into the USB port in the new car with iDrive 7, select "Music Collection." Next, select  "Option" Select  "Manage Music Collection" Select "Restore Music Collection from USB Drive". All your media will port over and you'll be back to normal.  If you are moving from iDrive 5 or older to iDrive 7: On the previous generation harddrives, BMW ripped CD content and saved it as a .BR25 or .BRx file. This file type is exclusive to the BMW brand, and as non-standard as that format is, there is a way forward. In the newer iteration of iDrive, media files will be saved as either .MP3 or .ACC, which is more user friendly and easier to transfer to a backup solution. We searched and searched for a way to convert the .BR25 and .BRx files back so they can be used on the new iDrive, and fortunately there is a developer out there that has a proven solution. Matthias Rebbe is frequently mentioned in the forums and has a program called BRx converter that you can be downloaded at a minimal cost, and will help you transfer from iDrive 5 (or older) to iDrive 7.  If you run into any issues while trying to export your media, you can always call us directly and speak to our BMW Genius, Meghan Galeli. She is the one who was initially asked this question and the one who tracked down all the right answers step by step.