How to Check Tire Pressure
Proper tire pressure on your BMW X5 or 3 Series ensures optimum performance and safety on San Diego roads. According to the Department of Energy, properly inflated tires can even improve fuel efficiency up to 3.3%. Your BMW tire pressure monitor will alert you if you have under inflated tires.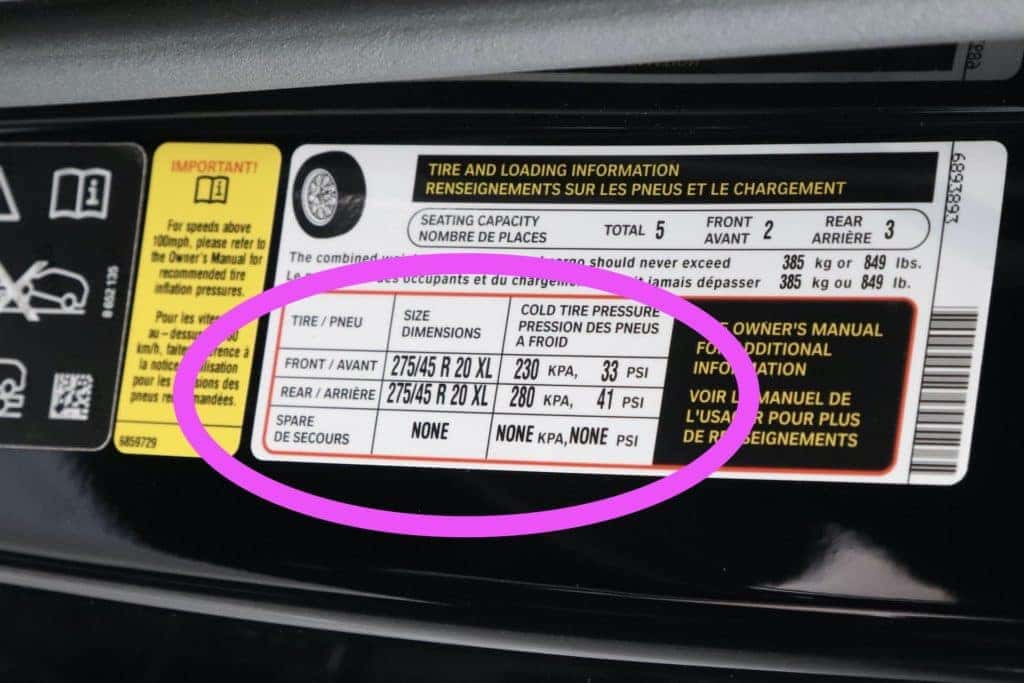 Find this tire pressure sticker on the inside driver door. In this example, front tires need to be at 33 PSI and rear tires need to be at 41 PSI.
Be sure when checking the pressure that the tires are not too warm, which can happen after driving for a while, as this can affect the pressure reading.
Unscrew the valve stem cap
Place a tire pressure gauge even onto the valve stem and firmly press down
The gauge will display the PSI
Remove the gauge
Replace the valve stem cap
If the tires are overinflated, let some of the air out by pressing down the center plunger in the valve stem, and recheck.
If underinflated, fill to the proper levels. Remember that the front and rear tire pressures may differ!
If your tires are properly inflated, you can Reset the Tire Pressure Monitor (TPMS) using this BMW Genius How-To
Some Tire Care Basics
You should visually inspect your tires on a regular basis. If the tread is worn down, or if there is any cracking in the sidewalls, you'll want to replace the tires.
If you find that your tires are regularly losing air pressure, it could indicate a slow leak that should be addressed immediately.
Make sure to keep up to date with the recommended tire rotation and wheel alignment schedule in your BMW owner's manual.
Expert BMW Tire Care is Available at BMW of Escondido
If you need assistance with checking your BMW tire pressure in Poway, rely on your local authorized BMW service center. Our experienced certified service technicians at BMW of Escondido can assist with your tire care and BMW maintenance needs. You can also check our genuine parts center for tire pressure monitoring systems and BMW-approved tires when it's time for replacement or maintenance.
We offer a fine selection of BMW tires from major brands such as Goodyear, Michelin, and Pirelli that will provide the performance and safety you want on the streets and highways around Poway. Check out our current service specials, then schedule a service appointment at BMW of Escondido for quick and efficient service.
---
BMW Tire, Oil Change, and Maintenance Coupons
We are currently updating our Service Specials. Please check back soon.